Ashland Wood Hamlet AirBnb – Autumn Outdoors
Autumn Outdoors – Wood Hamlet AirBnb
Guests indulge in healthy living at Wood Hamlet Ashland AirBnb.  Even during a pandemic, days can be filled with nature, culture and deep relaxation.  Cars are parked and often never moved for the entire stay.  Guests walk to Lithia Park, the town, and woodland trails. They take an icy Autumn plunge in the pond, relax in the garden no matter the temp and they even sometimes help with Wood Hamlet chores.  Join us and start a peaceful tradition that is Ashland, Oregon, outdoors.
Outdoor Living at Wood Hamlet
Jenine found Wood Hamlet Ashland Airbnb the perfect place to be stuck during a pandemic. She took advantage of the pond even though it was late October and  the temperature was dropping fast.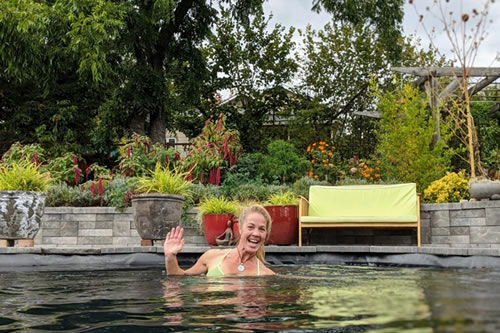 … And, she would hang out in the garden for yoga, meditative strolls and even, to snuggle into a down sleeping bag on a lounge with a good book. Guests in Ashland get outside and Wood Hamlet makes it welcoming.
Guest, Jenine, helps Dave repair the outdoor heater.