Wood Hamlet Ashland Airbnb – Reviews
Guests Reviews – Wood Hamlet AirBnb
Guests from all over the country and all over the world, visit Wood Hamlet Ashland Airbnb. With five Airbnb's, gardens with multiple sitting areas, a pond for swimming, another pond for beauty, a small wooded area and a large veggie garden, there is much to enjoy. Plus, we are just a few blocks from downtown Ashland, from Lithia Park and a short drive from Mt. Ashland, the historic town of Jacksonville and the Britt Music Festival and so many more outdoor scenic destinations. Below, we've posted some of our guests comments and reviews for Wood Hamlet Ashland Airbnb.
Lynn: The experience at Wood Hamlet will be relaxing and oh so enjoyable. I am a repeat customer and have enjoyed staying in 3 out of their 5 rooms. This time it was the Mexico room. Comfortable, pleasantly decorated, and all the amenities that someone would need for a short or long visit. The host is attentive and quick to reply. It is truly a delightful place to be, especially when weather and smoke conditions prevent one from experiencing OSF and other outdoor activities. I highly recommend any of the rooms at Wood Hamlet.
Why Guests Stay at Wood Hamlet
Renee: Wonderful private location, with so much style and thoughtfulness!! Nadine was very accommodating, great communication with fine details of our stay! We enjoyed the Miro room decor, and the beautiful backyard with a swimming pond. Definitely a must stay while in Ashland Oregon.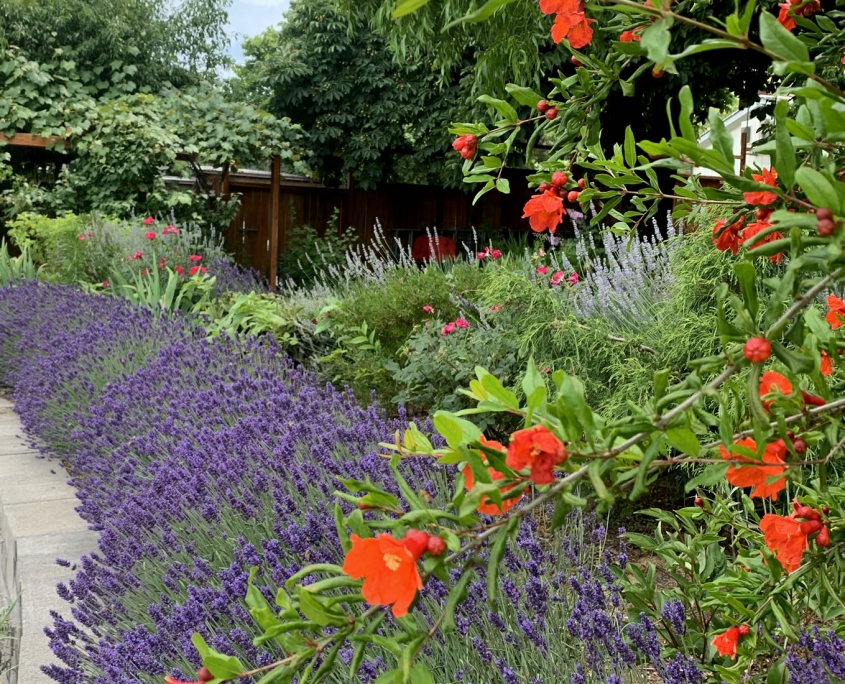 Martin: Nadine's place was the perfect spot for my work trip to Ashland. Clean, comfortable and quiet, the space provided everything I needed, including a small desk, reliable internet and a good supply of coffee, along with a small fridge and ample closet space. The added bonus is the proximity to downtown and almost everything else in Ashland.
Jen & Kim: the property is beautiful. We stayed in the Picasso suite and it gave us everything we needed. Around the pool are several spots to sit and enjoy the beautiful gardens. The location – couldn't have been better. Easy walk to town for food, shopping and shows! It was also an easy drive to go to Crater Lake for just the day.