Ashland Wood Hamlet AirBnb – Healthy Living
Healthy Living – Wood Hamlet AirBnb
Guests indulge in healthy living at Wood Hamlet Ashland AirBnb. Days are filled with nature, culture and deep relaxation.  Cars are parked and often never moved for the entire stay.  Guests walk to the theater and experience the Oregon Shakespeare Festival once or twice a day. They paddle about in the Wood Hamlet pond between shows or just relax in the garden with the blue sky overhead. Restaurants, shops and art galleries are all 3 to 6 to 10 blocks from their doors. Join us and start a peaceful tradition that is Ashland, Oregon.
Deep Relaxation at Wood Hamlet
Three friends met in Ashland for the Oregon Shakespeare Festival.  They were delighted when they discovered the garden and pond for cooling off between shows at their Wood Hamlet Ashland AirBnb.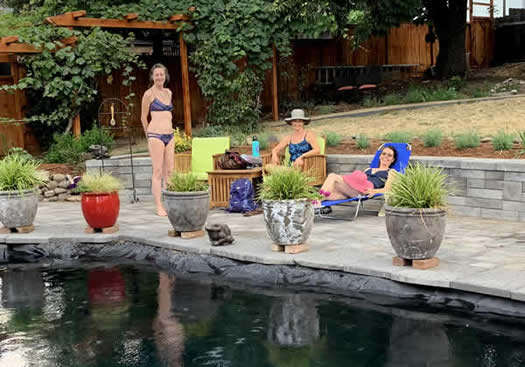 Guests join us from all over the world.  We have found the Australians, at least those who have chosen to stay at our Wood Hamlet AirBnb, to be super friendly, outgoing and definitely extroverted.
Wood Hamlet Host Nadine with PCT Hikers
They had just spent a month on the trail coming up through California when Dave found these two Canadian PCT hikers in our town.  Being Dave he immediately asked them if they needed lodging for a night or two. They jumped at the chance but unbeknownst to Dave, all rooms at our Wood Hamlet Ashland AirBnb were full.  No matter. With our daughter in Spain they settled into her room and a chance to shed their 45 lb plus backpacks, put their feet up and rest their heads on pillows. Their second favorite spot was floating in the pond.